Although there are a number of ways to get around Internet censorship online, many of them route your entire Internet connection through a proxy; slowing down what might already be a sluggish connection. Instead, you can easily specify what groups of websites you want running through a proxy; in this case let's use Turkey's censorship of all Google Blogger sites as an example.
Using Firefox, you can, in less that 5 minutes get to all of the Blogger sites in Turkey or Wikipedia in China, and so on. Here's exactly how to do it.
Step 1: Cheating With A Proxy File
I've gone ahead and created a small text file for you, that you can download here. Save it as proxy.pac to your desktop or somewhere handy you can find it. Keep in mind that this file will need to stay put – so if you like a blank desktop keep that in mind.
Step 2: Open The File
Honestly, you probably don't need to do this but nasty government censors tend to catch on to these little hacks. It's in your free-Internet best interests to understand one small line of this file.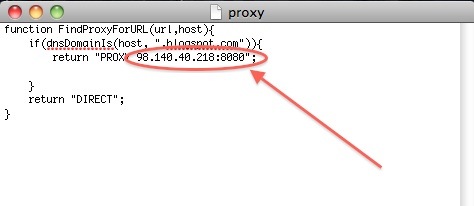 Those numbers might need to change in a few days after you read this. I'll explain in a bit.
Step 3: Getting Firefox Proxy-Ready
Follow along with me. Open Firefox, then click Preferences > Advanced > Network > Settings > Automatic Proxy Configuration URL. It will look something like the image below. (The screenshot is on a Mac. Windows uses will find something very similar.)
Type in the file path to the proxy.pac file (e.g. C://documents and settings/username/desktop/proxy.pac) then click Reload > OK.
Step 4: You're Done…Mostly
At this point you should be able to access Blogger in Turkey (or anywhere else it's blocked). After a week or two however, it's likely that the proxy will be discovered and blocked as well, cutting off your connection. When and if that happens, go to this free proxy list on Hide My Ass, and replace the IP address in the proxy.pac file with one from the list. (US sites tend to be fastest.) In the proxy.pac file, after the IP address (e.g. 98.140.40.218) there's a colon. The number after the colon is the port number listed on Hide My Ass. It's usually "8080" but if not, simply replace it.
Save the proxy.pac file, restart Firefox, and you're good to go again. This method will not affect your connection to other non-Blogger sites but can be modified to work your way around a number of bans. Good luck and feel free to let me know if you have any questions in the comments below.