You might not have the luxury of a wide angle lens or DSLR on your travels but you can still capture the views you want with the free application Hugin.
Hugin works by stitching together several photos you take of a scene or object that you wouldn't be able to capture otherwise in a single shot. While the application requires at least 3 photos (left, middle, and right), it can work with many more. In fact, Hugin's panoramas have many less gaps the more overlapping pictures you use. A set of 6 to 8 photos tends to a right combination, provided the photos overlap with obvious common points in each.
Finding And Understanding Control Points
Basically, Hugin needs common reference points in each picture you take so it knows how best to stitch your multiple pictures together.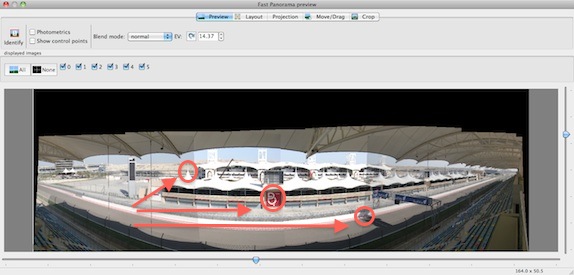 You can manually highlight control points if the application has trouble figuring each one out. The best control points tend to be obvious features that are present in at least 2 photos. That takes much of the digital burden off of you and lets Hugin work its magic with little interaction. Within a few minutes after arriving back at your laptop, you can have panoramic photos by turning your computer into a virtual wide angle lens. Hugin is free and works with Windows and Mac.