Internet connections can be tough to stay reliably connected to when you're traveling. The Firefox plugin Video DownloadHelper can save you some bandwidth efficiency by letting you easily save embedded YouTube and other videos as you surf the Web for later viewing without an Internet connection.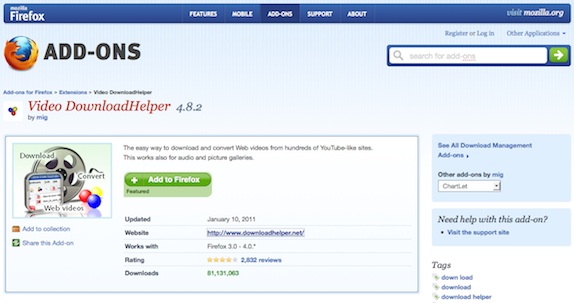 The plugin creates a small download icon to the right of the URL bar and will pull any embedded videos directly to your hard drive. While this may seem redundant (why not watch the video as you're already online), it lets you use a live connection for things that require it, like Skype, email, and browsing the Web. Video DownloadHelp is also especially useful for getting around local Internet censorship since you can pull the videos over a proxy and watch them without annoying pop-ups later offline.
Video DownloadHelper is a free Firefox plugin – for those of you using other browsers check out KeepVid, which doesn't require an application download.