Important installation disks for your most frequently used programs can be lifesavers when you're forced to reinstall application after a mishap. The problem is that many travelers either leave the disks at home to save space in their bags, or end up bringing a bunch of them in overloaded CD cases.
No matter which camp you happen to be in, you can save yourself the space and burden of remembering to bring that Windows XP install disk, by burning it directly to your hard drive as an .ISO file.
What Is An ISO File?
A .iso file, otherwise known as an image archive file or disk image, is a special type of file that acts (and is recognized by your computer) as a CD or DVD without the physical disk.
You need .iso files to run any installation disks from your hard drive – if you don't believe me, copy a DVD's folders to your hard drive and try installing anything with it. Over the last few years it has gotten extremely easy to create .iso files, which can also later be burned back to a physical disk if needed.
How To Burn ISO Files
The process is slightly different on Windows and Mac but fairly simple in both cases. The major difference is that Windows users need to download a bit of free software whereas Mac users can burn .iso files with Leopard or Snow Leopard. You'll also need a CD or DVD drive (obviously) and the disk you'd like to burn.
Burning ISO Files On Windows
Start by downloading a copy of the free program ImgBurn (which also works on Linux). Once installed, all you need to do is insert a blank CD or DVD and click "Create image file from disk" as shown below.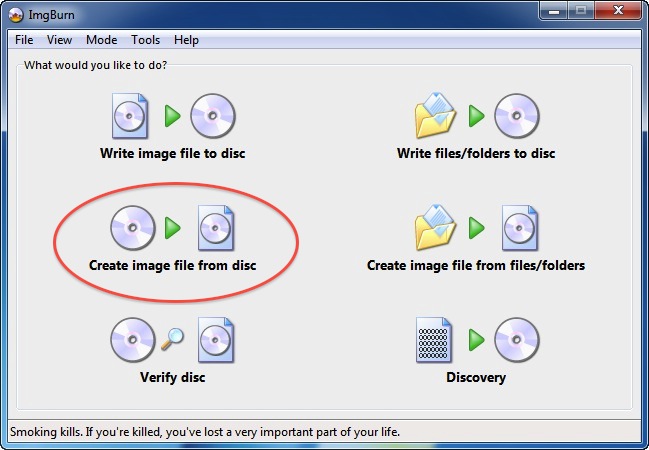 Select a place to save the disk image and after a few minutes you'll have your DVD burned to your hard drive. Now you can access the disk when you need to reinstall a program or simply add a few of the extra features you didn't bother to the first time around.
Burning ISO Files On Mac OS X
While there is some scant software out there for Mac to burn ISO files but you won't need it because Mac OS X already provides that functionality.
Create a folder which will be used to store your disk image. Copy all of the CD/DVD files from the disk itself into this folder.
Using Spotlight, do a search for the Disk Utility application built into Leopard and Snow Leopard.
Select the "New Disk Image" icon at the top and make sure you choose the "CD/DVD Master" format when asked.
From there a click OK and you're on your way to having a working version of that DVD in your drive on your local machine.
What ISOs Aren't Plus A Few Reminders
Burning .iso files won't work to store your DVD movies on your hard drive, that's a slightly different process which actually isn't much more difficult. Be aware of the amount of disk space you're using when burning .iso files to your hard drive as it can add up quickly.
Prioritize the applications you're most likely to need the installation disks of like your operating system and anything Microsoft before you leave home. Finally, make sure to keep a spreadsheet or text file of the product keys handy as well, otherwise your ISOs might be useless a thousand miles from home.
[photos by: drocksays (CD collection), Mark (DVD drive)]