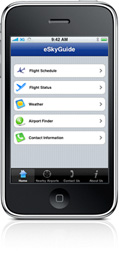 The eSkyGuide iPhone app is an application that combines what many others already do with the added benefit of giving you contact information for just about any travel-related company. eSkyGuide has the usual compliment of flight status, schedule, and airport information, but its best use is as a contact manager. The iPhone app, which also works on the iPad and iPod touch, has complete contact information for most of the major airlines around the world.
Offline Contacts
That makes it easy to get in telephone touch with the airlines, especially when you don't have an Internet connection available (the contact information is downloaded and maintained offline). Airlines notoriously make it difficult for you to find their customer service numbers and its often when travelers are in a bind that they're needed most. eSkyGuide also has the contact information for a large number of hotels, rental car companies, and major credit cards as well.
Other Functions
eSkyGuide's flight schedule and status functions aren't as crisp or intuitive as they could be and will hopefully be improved upon for next update. An integrated contact search would also make the app much more useful friendly. For the $4.99 cost of the eSkyGuide, these recommended features and a tune-up of the app's responsiveness are crucial before a great idea becomes worth the cost.