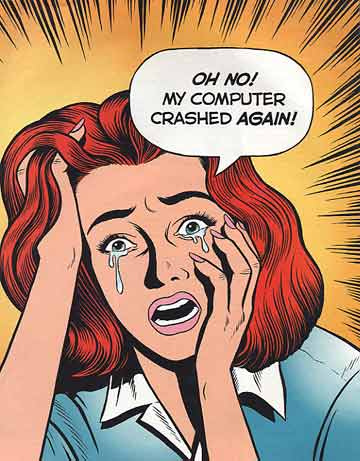 The best backups are those that are kept physically separate from the source. The further from the originals, the safer your trip pictures will be if you lose your laptop or it's damaged. That's why running backups of your hard drive and keeping them on the same laptop are almost completely useless. Bringing an external drive around with you seems like an attractive alternative except that if your bags are stolen, get completely soaked, or befall some other disaster, chances are so will the backup drive.
Fortunately there are some good free online backup solutions you can use to automatically send your backups to far off and secured places. Save your pictures and important files while you travel and let the software do the rest.
1. CrashPlan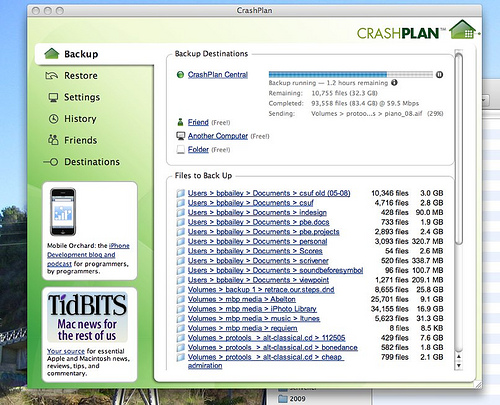 This is my favorite backup option. CrashPlan gives you two choices, you can backup your files to their servers for a monthly fee ($3.50 for a single computer $5 for multiple) or set up your own backup site for free. The pay version is worth the price of your files and many other reliable vendors (i.e. Mozy, Carbonite) offer similar services.
You can however have your backups stored to another personal computer that has the space you need to store your important documents. This can be your computer at home, a traveling friend's laptop, or mom's computer that is barely used. Simply have them install CrashPlan, add them as a friend, and you're set. CrashPlan will automatically save the files and folders you specify to the other computer and you can return the favor too if you have the space. Your friend can limit how much maximum space their willing to sacrifice and backups are encrypted so the other person can't go through your files.
It's all free and a great remote unlimited backup solution.
2. Mozy
I really like the service Mozy provides plus their customer service, and ease of use. Mozy, like CrashPlan, offers automated online backups to their servers for a monthly fee of $4.95 for unlimited storage. Again, this is well worth the alternative of losing your precious travel memories from your laptop in case something happens. Mozy will let you restore individual files or all of them at anytime when you need them.
The other Mozy option lets you save up to 2GB of backup files for free. It's an ample amount to store important files, scans of your passports, and pictures (depending on how many you take and at what resolution).
Why Online Backup?
In many ways these online backup solutions are easier to deal with when traveling than using a backup external drive. Online backup doesn't require any additional hardware to bring with you and occurs automatically on a regular basis without your active involvement. The only caveat being that you've got an active Internet connection. Both CrashPlan and Mozy handle a lack of wi-fi fairly well and will simply back up the next time you're online.
One thing is certain though, if you're not using any form of offline backup for your computer (whether you travel or not) you are risking losing everything you've saved – including those awesome travel photos you took.
[photos by: Josh Bozarth, bpbailey, Liam Gladdy]