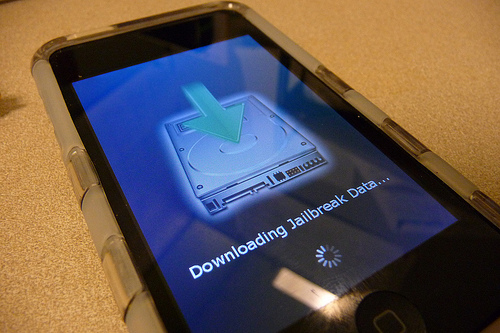 The process of jailbreaking, unlocking your iPod touch or iPhone, is useful for travelers who want to use their phones with different carriers and install some cool apps on the go. You don't need to spend any money jailbreaking your iPod touch or iPhone because it's an easy thing to do using free software and your computer.
Important disclaimer: First of all, backup your device in iTunes before you proceed. Also, note that jailbreaking your iPhone or iPod touch will break your Apple warranty since it's not supported. (Actually, Apple strongly discourages it). Finally, although this method is tried and true (I've done it many times) you may end up losing data (hence the backup) and other things could go wrong too. Just remember, I'm not responsible, you are.
Getting Started
I'm going to show you these steps with screenshots from a Mac but the process is very similar on Windows (where it's different I'll point that out). You'll need your iPod touch (1rst or 3rd generation) or an iPhone 3G or previous versions (but sorry not the 3GS). These methods now work with most versions of the 3GS.
Step 1: Get The Right Software
Mac users you'll need to download the latest Pwnage Tool by scrolling down to 'Unofficial Mirrors'. You'll be able to download the tool from any one of those links. Windows users can download redsn0w which also works on Mac. Before you install these programs make sure that your iPhone/iPod is plugged in. There's now one more thing to download call an IPSW file (download the IPSW file for your device here) which is what iTunes uses to update the iPhone/iPod.
Step 2: Install and Run The Software
Install the software which will start up iTunes on you machine if it's not already running. Select your device with the Pwnage Tool. Windows users you'll need to fire up redsn0w.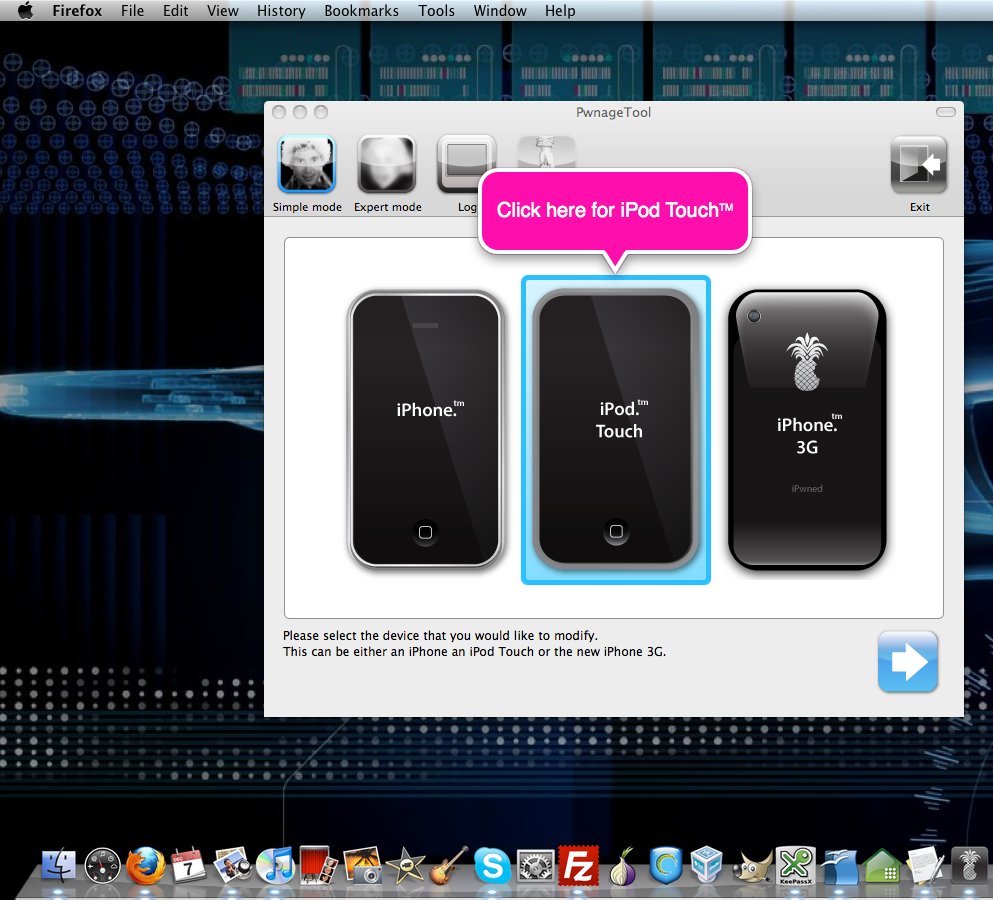 Step 3: Use The IPSW File
At this point Pwnage will tell you it can't find a 'firmware bundle' so you'll have to show it where the IPSW file is. When it asks you if you'd like to search the Web, click "No".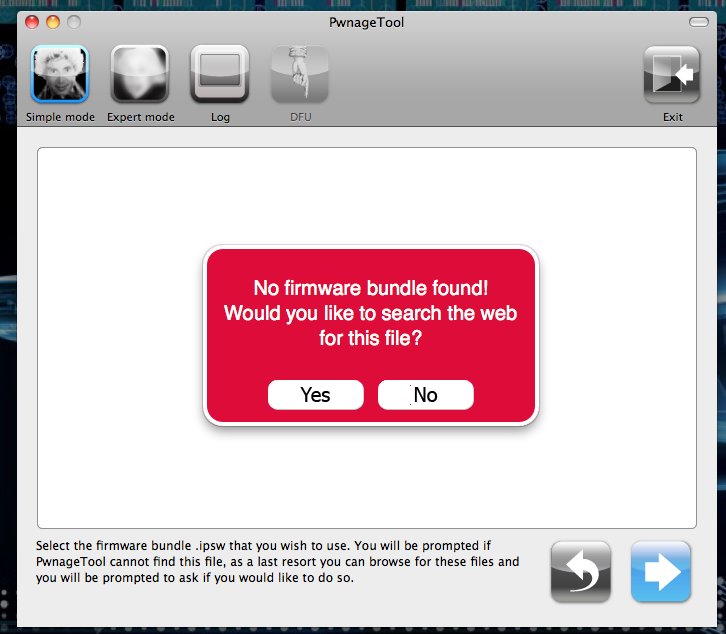 Step 4: Browsing
The next step is to browse for the exact location of your IPSW file on your computer. Click "Expert Mode" at the top, which will be highlighted to let Pwnage know where the file is.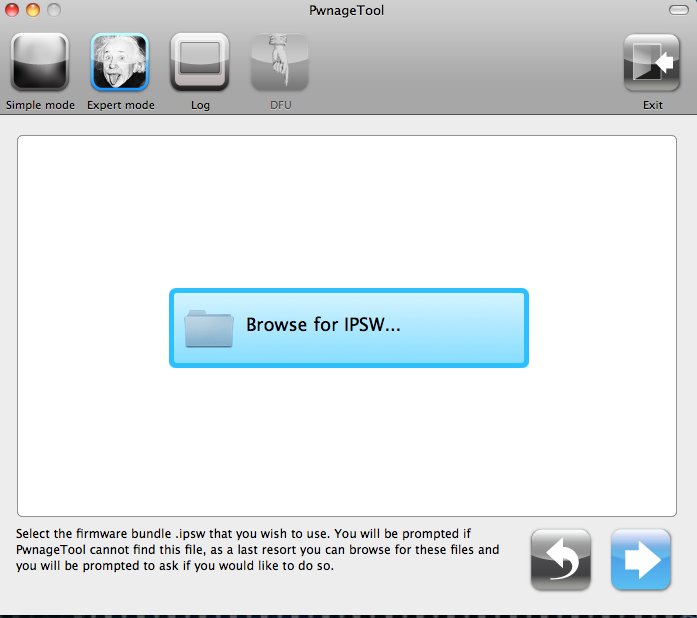 Step 5: The Final Steps
Once you locate the IPSW file, click next and Pwnage will do it's thing and begin jailbreaking your iPhone/iPod touch. It may take a few minutes and a few reboots.
Step 6: Restore Backup Data – Don't Update!
Now from iTunes you'll want to restore the backup you made since your contacts and other data may have been deleted. That's easy to do in iTunes but be sure not to update your iPhone or iPod touch now or in the future otherwise you'll have to jailbreak it again. Jailbreaks for each new version of the iPhone or iPod touch firmware usually take a few days so wait to make sure it's available.
Some More Tips
The hardest part about the jailbreak is getting the right IPSW file. It's got to match the version (i.e. 1.1.5) that's installed on your iPhone or iPod touch.
Did I mention to backup your iPhone or iPod touch?
Here are some ways to secure your iPhone after a jailbreak.
Why Jailbreak?
The primary reason most travelers will want to jailbreak their devices is so you can use them with other carriers anywhere in the world. In the US for example, if you have an iPhone you're stuck with AT&T but with a jailbroken one you could use Orange in England if you wanted to. iPod touch users will have a lot of nifty free apps to add and play around with (like classic Nintendo with all the games).
Jailbreaking is really an easy process but if you're still weary follow along with the video below on using redsn0w for both Mac and Windows.
[photo by: Kenneth Hynek]