I had the pleasure of meeting TRAVELinform creator Johann Beukes and partner Roan Havenga last year in Sofia, Bulgaria during the Space Tourism & Travel Trends Summit. Today Roan spends some time talking about TRAVELinform, a site loaded with travel information, and how it might help you travel better both on the road and from your desk.
Tell us how TRAVELinform came about.
TRAVELinform was brain-child of Johann Beukes, who as an avid traveler, experienced an information gap on the internet in terms of a conglomerate of TRAVEL information sites.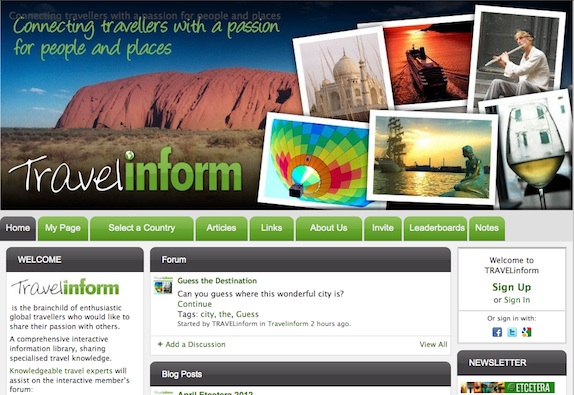 Johann has traveled to more than 75 countries and has built up an archive of articles and photo galleries. Not only do we envision to share this data to help prospective travelers but to create a platform on which returning travelers can share their own experiences with the rest of the world. The open platform also gives locals and guides the opportunity to befriend with future visitors to their area. Our main objective is to be an information site and not an advertising site for various products at all.
Our slogan summarizes our vision:
"Connecting travelers with a passion for people and places."
How long did it take to set up the site?
Initially as we lack IT literacy, we had to do some research and make decisions whether we want to design our own CMS or use an open platform; we decided on what was available on NING. This was a great choice; it took all the technical detail out and gave us all the benefits of interaction tools among members to affectively ease the uploading process.
Once we knew what direction to take, the rest was pretty straight forward and it took us a couple of months to organize our content.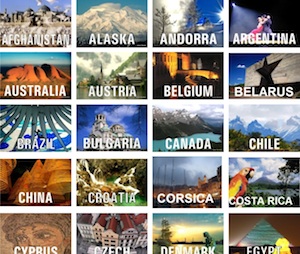 In what ways are you bringing travel and technology together on TRAVELinform?
Due to the fact that our main objective is not to earn through this site,  we are not focusing on advertising. Thus assisting other travelers, we are in a great position to share all the useful and handy travel sites out there. We therefore developed our Links tab, a one stop page with helpful links to access as much information one would require to plan a trip, covering from rail maps to  culture guides.
In a market dominated in many ways by Facebook, how is TRAVELinform creating a niche for itself?
&nbsp
We at TRAVELinform try to utilize the Facebook and Google+ social networks to their full potential by integrating our friends into our own TRAVELinform and cross feed the discussion contents. Because TRAVELinform is community based, Facebook is a great tool to compliment and build on prospective members.
What are your goals for TRAVELinform this year?
On a travel site there will always be more than enough "new destinations and cultures" to explore, a new space to growth every day; hopefully by the end of the day we would hopefully have covered most of our exciting planet; even though very elementary and basically.
We would like our members to share more of their own content and experiences to build on a broader information network, as well as building out on our worldwide reach, making connections on other countries much easier.
One feature of TRAVELinform you can't leave us without knowing about.
The central feature of TRAVELinform is the SELECT A COUNTRY tab: a share and get module, where one can get basic information on the country as well as links to related travel stories, photo galleries, maps and videos. In addition the detailed TRAVEL information links open a whole new world of relevant and necessary TRAVEL info.
Thank you very much Roan for taking the time to answer some of my questions. Sign up to TRAVELinform is absolutely free and you can follow them on Facebook, Twitter, and Google+ as well.