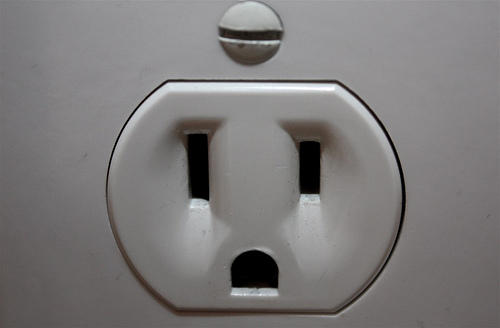 Although we've talked about hacking wireless networks in the past but sometimes your connectivity problems are much more straightforward – like being slightly out of wifi range. There are a number of tools you can use on your laptop to get around flaky Internet connections but one of the most simple is to plug in. No, not plug in your laptop to an Ethernet connection (which works too) but rather, get some electricity from the wall.
The reason this works is due to the fact that when your laptop is running off  battery power it slightly cuts the energy it devotes to resource hogs. The most obvious one to our human eyes are dimmed screens but slightly reduced electricity to the wireless card is less conspicuous. Your laptop's wireless card takes up a significant amount of power to run optimally (just turn it off to see your estimated battery life jump) and when you're near a strong connection a 10% reduction in power isn't often noticeable.
That said, when you're in a hostel in Thailand desperately trying to upload photos to Facebook or maintain a Skype call, plugging in to a power outlet might make the difference.
[photo by: jeck_crow]