Android doesn't quite have the visibility in the travel app community as iPhone does, which might make have kept you a bit in the dark about the Google-owned mobile operating system. To help you get up to speed before and after joining the Android community, developer Vinny DaSilva created Tinkerdroid and answers a few questions about the new site.
In a tweet, what is Tinkerdroid?
Tinkerdroid is a community driven question and answer website for Google Android device owners and enthusiasts.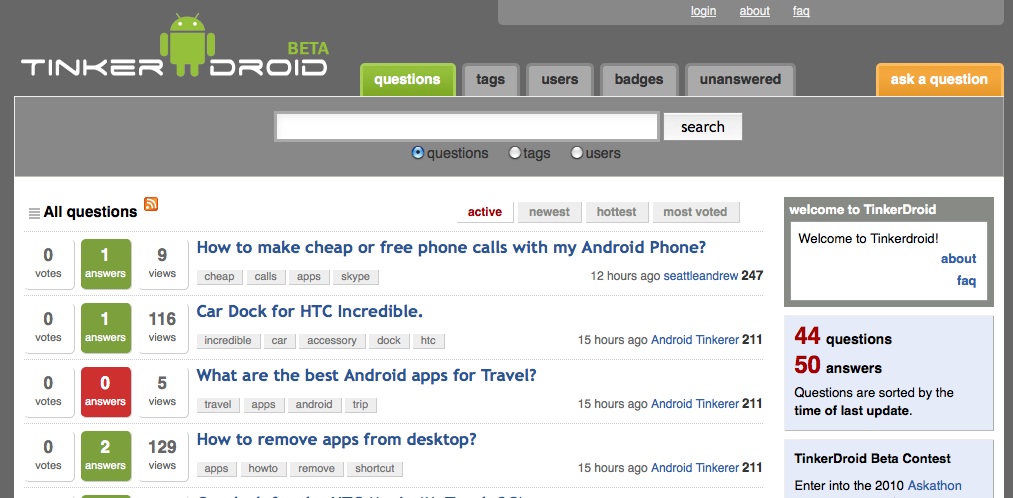 What are 3 specific ways Tinkerdroid can help travelers?
Along with phones, tablets are now joining the numerous gadgets running Google Android and this list grows every day. The portability, many free apps and the openness of the Android platform makes it ideal for travelers. With just one device, more and more people are using their Android device to replace many like MP3 players, GPS, cameras, journals, etc. Tinkerdroid has great information on how to get the most of your travel companion. Details on how to increase speed, improve battery life or to track data usage are all answered in detail by the community.
In addition to great information on getting the most out of your devices, Tinkerdroid can also help folks find the right accessories or applications for their devices so they can do everything they need to do while on the road, from docking your phone in the car or how to manage groceries.
When planning your round the world trip, you can always get detailed information on the different devices so you can get the most out of your trip. Finding the right device for your travel lifestyle is very important!

What are some of the most common Android questions people have?
By far, the most common question types are "How to" questions. There are a lot of smart users out there and they know they can get more out of their phones they just need a little guidance from the community and the community is always eager to go into details of how to make something work.
Do you have any favorite Android phones – anything frequent travelers should look out for?
The Google Nexus One is definitely one of the better phones available. Whenever there is a software update to the Android platform, the Nexus One is one of the first, if not the first, phone to receive the updates. It also runs on a SIM card which allows users to very easily buy a local pre-paid calling card with a SIM in foreign countries. Pop it into their phone and they are good to go.
When looking for the perfect Android Phone for travelers, I would suggest to get a style that suits your personality (some people like physical keyboards, others just a touch screen). Another good idea is to check out the battery life of the phone. If you will be spending considerable amounts of time away from a power outlet, you may want to look for phones with smaller screens and more efficient in managing their battery.
What specific Questions on Tinkerdroid would you recommend new users visit first?
Rookies should check some of the following:
What are some of the best Android apps for travel?
My personal favorite Android apps for travel are Tripit, Google Maps, Skype and GeoQuiz.
Tripit is great because I use the online service to manage my itinerary whenever I travel, so having all the information on flights, hotel contact information, even local weather is incredibly handy!
This past spring I went on a road trip from Los Angeles to San Francisco. Using my Android phone and Google Maps Navigation and I had no need to carry a GPS device, just press a button on my phone and I have turn by turn directions. Works like a charm!
Skype is wonderful because no matter where you are in the world, there you are! You can receive phone calls and make phone calls for incredibly cheap! Just connect up to free wifi anywhere in the world and you can be in contact with your family and friends. For those that are used to using Skype on computers, Skype on your own phone is even better!
GeoQuiz is a personal favorite of mine. During long road trips or lay-overs, this is a really fun game to help pass the time, and in the end you know a lot more about the countries you are visiting! It's great to play it with a friend and see which one gets the most right.
You're running an 'Askathon Contest' – how can someone win $100 using Tinkerdroid?
It's incredibly easy! For anyone to be eligible for $100, all you have to do is ask a question! It's that easy!
The signup process is a breeze. You can use your Google, Facebook or Twitter account to login and ask your question. For those that want to contribute to the community, answering questions also makes you eligible to win $100. Your chances of winning are increased every time a member of the community votes for your question or answer. So tell your friends about all of the great questions or answers you are contributing so you can walk away with $100! The contest ends on December 6th, giving everyone a great opportunity to participate.
Thank you very much for the interview Vinny about Tinkerdroid, a (free) site I think many travelers will find incredibly useful and community they'll consider contributing to. You can also find Tinkerdroid on Twitter and on Facebook as well.