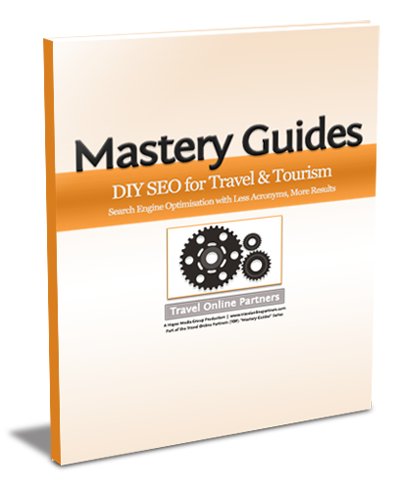 Written by Andy Hayes and Shannon O'Donnell, the Do It Yourself – Search Engine Optimization Guide is aimed at travelers and members of the travel industry. For those of you new to building websites to promote your blogs and businesses this eBook will help you answer the important question –  how do I make my website found online?
The DIY SEO Guide is focused on beginners and starts you off with an introductory audio tour explaining what search engine optimization (SEO) really is. The guide starts off slow, covering some of the jargon and stereotypes about SEO. Where the guide really shines though is in the second half where it tackles some of the technical details on how to build a website from the ground up and make sure you're found online.
Who Cares About SEO?
There are a host of great travel companies and blogs online that nobody can easily find. Many of them are reluctant to focus on their websites and consider them more eye candy than anything else. I make much of my living from developing websites and SEO and can tell you that any website needs to be alive for it to be successful. You need to be found because no matter how great your content or service is, it will be invisible if people can't find it easily with a Google search.
The DIY SEO Guide isn't for those who have a working knowledge of SEO (although I did learn a few things myself) but a worthy investment if you're looking to promote your travel website or business. The DIY SEO Guide will teach you how to get your website to pop up when people type things like "Bill's Costa Rican Adventures" in Google, Yahoo, or Bing. The DIY SEO Guide doesn't promise you'll be the most popular website online or even in your niche but can drastically improve your online presence, particularly if you've spent little or no time on SEO.
About Shannon and Andy
The DIY SEO Guide is written by Shannon O'Donnell who worked as a freelance SEO consultant as she traveled around the world and Andy Hayes who helps small businesses in tourism make the most of the Internet. There are two options for purchasing the DIY SEO Guide: $49 for the guide, worksheets, and audio introduction or you can purchase DIY SEO with a guided tour for $245. Andy and Shannon will take you step by step, make sure you don't miss any steps, and lend you expert advice on SEO.
The DIY SEO has detailed information on SEO (written by two people very knowledgeable about the subject) and includes many of the technical details other guides and books leave out. You can find out more information about DIY SEO at Travel Online Partners and read The Planet D's review as well.