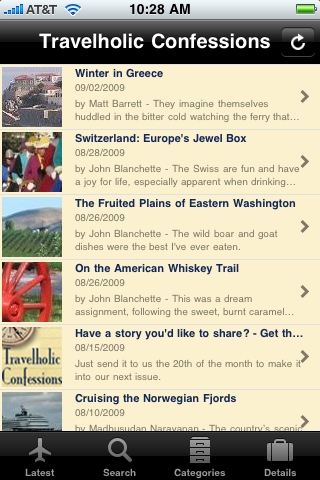 Oh Wow Studios recently released Travelholic Confessions, a mobile travel magazine dedicated to the iPhone and iPod touch. Raz Carcoana took a few minutes to share more about the app which is available now.
What's the purpose of the Travelholic Confessions iPhone app?
TC (Travelholic Confessions) app the first and only travel magazine made exclusively for the iPhone/iPod Touch community.  There's an empowering and footloose lifestyle that goes along with owning one of these devices and we wanted to bring that type of travel narrative to the  community.  iPods changed the way we deliver music to our ears, the Amazon Kindle changed the way we deliver books to our libraries, and we are the first developers to recognize the impact the Apple platform has on getting our travel content.
Who contributes to the Travelholic Confessions?
We have contributors from all walks of life and professions.  What they all have in common is the embrace this mobile lifestyle and can convey real and insightful travel insights from around the world.
How often are updates released?
Articles are updated bi-weekly, however and we are moving to a weekly model due to popular demand.  The application itself will have an update released towards the new year and will incorporate a lot of new features that our fan base have asked for.
What do you envision for Travelholic Confessions?
We see TC filling the wide gap between glossy/shiny travel stories in mainstream publications and they types of short remarks made on review sites.  In a sense, neither of them are really full of the real insights that travelers are looking for.  One is glossy and somewhat canned, and the other distill an experience down to a few stars on a rating and a one or two sentence review bereft of any real insight.  There's a market for begin real and insightful.
How much is the app?
A lifetime subscription is only $3.99 on the app store.  You get all of the updates for free and there's always new and interesting stories that our writers are sharing.
Are you developing any other apps or have any new projects coming up?
We have another  travel app that is geared more towards daydreamers or avid photographers who are also travelers and iPhone users.  It's called Secret Places and it's a photo sharing app that allows users to contribute a snapshot of that great sunset or vista they are in front of right from their phones.  Unlike Flikr or Twitter, no account is necessary and anyone can contribute. We always have fans tell us how much they love it because they get to explore new and wonderful places they've never heard of while they're waiting in line or on break at work. The app is $1.99 and it's available on the app store.  Additionally, we are working on a few other non-travel apps and they should be out in time for the holidays.
Raz, thanks again, I appreciate the interview. Travelholic Confessions is available for download from iTunes for $1.99.