Michael is the creator of Bon Via, a community for travelers to buy and sell unique things from around the world. Recently launched and what seems to be he beginning of a wave of similar sites, Mike talks about what differentiates Bon Via, and how travelers can use it to earn some side cash for their travels.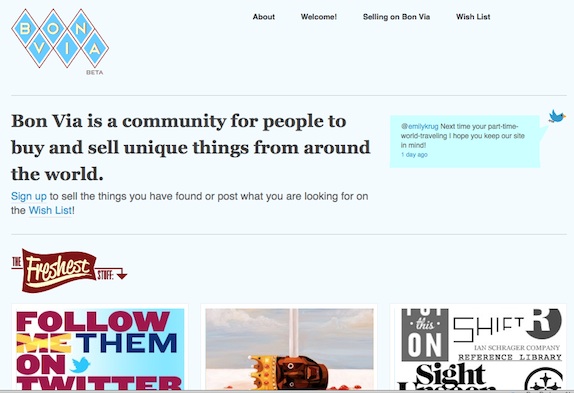 Briefly walk us through how backpackers can benefit from Bon Via.
Bon Via allows people to buy and sell great things from around the globe using an independent network of travelers. For travelers–or sellers–the main benefit is to earn income along your journey to either keep on traveling or come home not so strapped for cash. But these transactions are happening on a very direct basis, so I think there's also some real sense of satisfaction knowing that you are helping local economies.
I backpacked across Europe in 2007 and it was, of course, an amazing time. Wherever I went, I saw amazing things that I personally did not need but which were totally unique and I knew people would enjoy back home: I just didn't have a venue for selling them. Bon Via is the germination of that urge.
If backpackers listed things they found for sale on eBay, I think people could easily get lost in the shuffle.  Bon Via's focus is solely on imports. As more people join, the stronger our communal marketing efforts will become, which will in turn help people sell more and more items.
Additionally, members may blog about their journeys on the Bon Via site which will bring their words to a larger audience.
How is Bon Via different than a simple souvenir exchange?
More than a souvenir exchange, Bon Via will grow to be more like an online bazaar or souk: Individuals list and sell the products they have, someone buys them, and we charge a very small commission (3%). Besides money–and maybe a thank you note!–the buyer exchanges nothing with the seller.

Let's say someone is traveling in New Delhi but originally from Canada – what would be the best way to get goods to someone in France?
For the time being, we are only allowing items to be sent to the United States. If we took your question and changed "France" to the "United States" our answer is to just head on over to the post office and mail the item!
Each seller is responsible for handling their own duty fees–if any–and making sure that what they're mailing isn't illegal.
All the processing is handled digitally. As long as they have an email account, we can pay a seller via PayPal within 5 days of the item selling.

What does Bon Via cost and how much is earned on each transaction?
It is free to join and list items for sale on Bon Via! After the item sells, we charge a 3% commission after any other fees (PayPal, etc.) and then send the seller the rest of the money!
The money earned on each item is variable. As an example, if you see a beautiful, handmade, leather belt in Portugal selling for the equivalent of US $10 but know it can be sold to someone for $35, then list it on the site! As usual, supply and demand will be the main determinant in how much one can earn.
Are you running the back-end of the site yourself?
Yes, for now it's a solo show with me doing admin, graphic design, and marketing. It's great and I sincerely love it.
What's the technology behind Bon Via?
Trusty, trusty WordPress and a host of plugins (at least as we start out).
Thanks for taking the time to introduce us to Bon Via Michael. Good luck with the site a look forward to seeing it expand in the coming year.