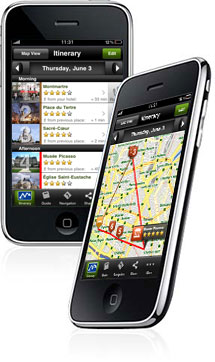 Travelers can use the mTrip Travel Guides to create customized itineraries on the fly for their trips to select cities. The app, which runs on both iPhone and iPod touch (with a few differences) also gives you accommodation, shopping, and restaurant recommendations based on your personal preferences.
How mTrip Works
The mTrip app for each specific city is purchased individually, costing $5.99 each. At the moment there are 14 cities covered by mTrip, mostly in Western Europe and a few around the United States.
You begin by letting mTrip know the dates of your trip and by browsing through accommodations based on the budget you define.
Most of mTrip's features can be used offline and without the need for network access.
Guides are available in English, German, French, Italian, and Spanish
mTrip also lets you book directly through the app and returns a fair amount of results, although seems a bit scarce on hostels. The app can also use your current location to let you know how far away any of the selected accommodations, restaurants, or sites are from you.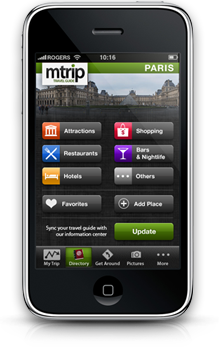 mTrip Genius
The most creative and useful function of mTrip is "Genius" mode. mTrip Genius lets you set your travel preferences; using graphic sliders to indicate how much interest you have in museums, monuments, parks, or religious sites. You can also let the app know how much you'd like to cram into each day, whether you're a turbo tourist in Amsterdam or want to take things slow in Chicago.
There is also an option to toggle between "Top Attractions" and "Alternative Attractions".
Based on your input, mTrip then comes up with a daily schedule for each day of your trip. Included in the itinerary are ratings, time to distance, and walking directions as well. Results are displayed either in list form or on a detailed local map that can also be used as local GPS.
Augmented Reality
Unfortunately mTrip's Augmented Reality feature, which lets you use your iPhone camera to see points of interest around you, doesn't work on the iPod touch so I couldn't test it out. The video below though gives you a good idea of this neat feature.
Detailed Travel Plans On The Fly
mTrip doesn't really do anything you couldn't already with an iPhone for free, although it gives you all of the functions in one place. The mTrip guides are also very specific to each city and with information it would take much longer for you to hunt down individually. mTrip also allows users to add their own content and tips over time as well as share them via email and Facebook. The price for each mTrip Travel Guide ($5.99) seems a bit steep even for what's a wonderfully thought out app, and I think $2.99-$3.99, or a discount for purchasing multiple guides would be the ideal price point for mTrip.