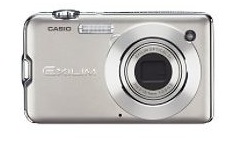 There is one point and shoot digital camera I've owned and tested several incarnations of. The Casio Exilim, originally designed to be ultra-slim (and they are, typically around 1.5 cm thick), have many other endearing qualities travelers will find useful. For those of you who may be in the point and shoot market I'll focus on the Casio Exilim EX-S12 12 megapixel since it's the latest. The Casio Exilim Z29 10 megapixel and Casio Exilim Z-35 12 megapixel (both under $100) are slightly thicker but make great (less expensive) alternatives.
Size
The Exilim is sleek and while not only slim even at its widest (9.4 cm or 3.7 inches), when the lens is retracted it's almost straight on both long sides. That makes it easy to toss in and out of your front pant pockets and isn't uncomfortably bulky. Casio was able to reduce the size of the camera in a number of ways, including removing space between the circuits.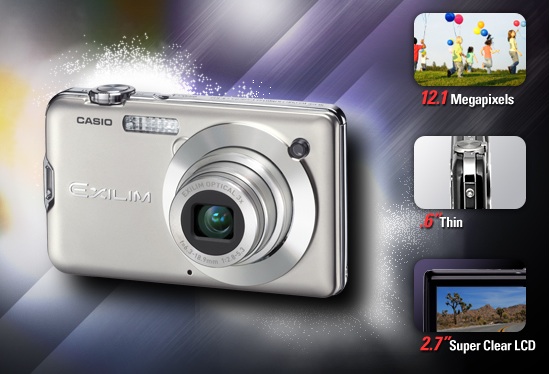 Extremely Durable And Reliable
One of the advantages of keeping circuits close together is that they're more resilient in case of a fall. The stainless steel case helps of course but circuits packed tightly together means there is less room for movement, even in more common situations like being tossed around in luggage. All of the Exilims I've owned are still working, even nearly 8 years later. I can't say this will be your experience as well but the design has longevity in mind.
Battery Life
Officially, you'll get around 300 photos but in my testing of each camera (with batteries over 50 hours of use) on them the number approaches 600. The camera is also excellent at retaining charge when not in use for extended periods. You'll want to practice good battery habits to maintain this level of quality but even without doing so will average around 500 shots before a charge. The Exilim cameras can be charged either with a separate charger or via USB directly.
Features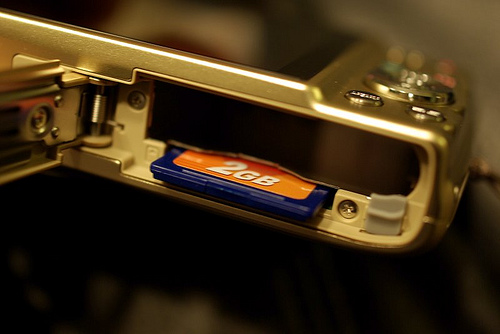 The Exilim series of cameras does have two big deficiencies, both the start time and time between pictures is noticeably slow. There are some features which help overcome the latter, like multiple or sports shot mode, but otherwise it's not the best camera to have when trying to catch that special market scene quickly.
Other Notable Features
The camera also has an audio mode and can be used as a recording device to capture sound only or record notes to yourself.
Why The Exilim?
This Exilim series of cameras aren't as feature heavy as some of the other point and shoots, and there are plenty of other budget alternatives you can compare them with. The Casio Exilim EX-S12 12 megapixel, Casio Exilim Z29 10 megapixel, and Casio Exilim Z-35 12 megapixel do however have 3 qualities that make them ideal for travelers. They're small, very durable, have excellent battery life and will do the trick for years to come.
[photo by: HAMACHI! (SD memory card)]